CLIENT SERVICES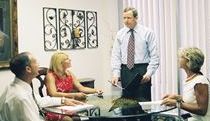 At Patrick Cooper & Associates P.C., we provide a wide variety of accounting, tax, management consulting, and financial management services tailored to meet your needs.
Our services are designed to make your job easier and provide you with more time to focus on building your business. We stay abreast of tax law changes throughout the year. This ensures that you are taking advantage of all tax incentives available to you while complying with state and federal tax regulations.
New Clients
We offer a complimentary, 1/2 hour, no-obligation initial consultation for new clients to discuss our services. To schedule an appointment, please call (281) 488-1854 and ask for Patrick.
Referral Services
Where other professional services such as banking, legal counsel, insurance and specific service consultants are required, we can draw upon our professional relationships with local respected professionals who will also provide you with quality service.
If you would like more information about any of our services, please contact us. You may also call 281-488-1854 and ask for Patrick.
ACCOUNTING SERVICES
General accounting support
Bookkeeping
Payroll services
Financial statement audits
Reviewed and compiled financial statement preparation
Financial projections
Cash flow and budgeting analysis
TAX SERVICES
Personal tax planning
Business tax planning
Divorce tax planning
Tax return preparation including e-filing
IRS representation and problem resolution
Consultation regarding proper business structure for tax minimization and legal protection
FINANCIAL PLANNING SERVICES
Estate planning
Retirement planning
Debt management/consolidation
Asset protection
Elder care
OTHER SERVICES
New business start-up including filing documents with Texas Secretary of State
Management advisory services
Planning for education expenses
Computer consulting
Accounting software consulting
Year-round tax planning for individuals and businesses including future projections and assistance with proper entity selection and set-up

"We met Patrick in 1986 when he joined a CPA firm that had been preparing our personal income tax return. Patrick was assigned to prepare our return, and we were impressed by his willingness to meet with us to review our year-end tax information and to answer any questions that we had. Patrick displayed an attention to detail and knowledge of the tax laws that earned our confidence. He has since assisted us in forming a consulting business and structured it to minimize income taxes, and he also prepared income tax returns for an estate of a family member. We appreciate his personalized service and wide array of services provided by his firm".
Glenn & LuNan S., individual tax clients, Clear Lake



AMENDMENT OF INCOME TAX RETURNS
We provide a complimentary, no obligation review of your last three years business and/or personal income tax returns to look for missed tax deductions or credits. If missed items are discovered, we can amend your tax returns (the IRS allows up to the last three years to be amended) and obtain tax refunds.
Please contact us for more information.