ABOUT US
Patrick J. Cooper, CPA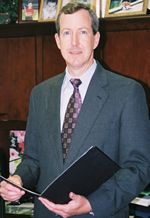 Patrick graduated from The University of Houston Bauer College of Business in 1983 with a Bachelors of Business Administration degree with a concentration in Accounting and Taxation. He passed the CPA exam in 1985.
Patrick has been practicing as a certified public accountant, financial advisor, and private industry controller for over twenty-five years. He helps individuals and small business owners achieve their financial goals, protect their wealth, and minimize their income taxes by taking advantage of allowable tax deductions and credits.
Patrick started his career in 1982 while a student in college, and has accepted progressively-responsible positions from staff accountant to tax/audit department manager in both public accounting and industry. By working in both the public and private sectors, he has a unique perspective for formulating solutions to business issues.
His firm specializes in serving individuals and small to medium-sized businesses in filing tax returns and minimizing their tax burden. Patrick's diverse background enables him to assist clients with federal and state income tax returns, employment / payroll / franchise / property and sales tax returns, preparing financial statements, processing general ledger bookkeeping, IRS audits, personal debt management, estate and financial planning, and other services.
Patrick resides in Pearland, Texas with his wife and three children.
Patrick is a member of the Texas Society of Certified Public Accountants, American Institute of Certified Public Accountants, and the Houston Chapter of Certified Public Accountants.

"Patrick began servicing my tax and accounting needs when he purchased the practice of my long-time CPA who was retiring. When my bookkeeper needed assistance with recording transactions in our Quickbooks ledger, Patrick came to my office and assisted her in recording the transactions. Then he met with me and inquired about the operational and financial performance of my business, and briefly explained the differences between reporting financial results under the accrual versus cash methods of accounting. I learned more from Patrick that day than I had learned from my other CPA in years."
"I have since hired Patrick to prepare a compiled financial statement that was required for a construction bond application, and also to advise me on the sales tax rules for my contracts. I have been pleased with the quality and timeliness of his work."
Clayton D., business owner, Dickinson