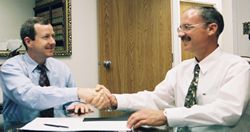 WELCOME
Patrick Cooper & Associates, P.C. is a full-service public accounting, income tax, and management consulting firm serving the greater Houston community and the Bay Area. Our dedicated team of professionals provide quality accounting, auditing, tax, financial and management consulting services to businesses and their owners. In addition, we provide services to individuals in the areas of income tax preparation, financial and tax planning, estate and retirement planning, IRS problem resolution, and personal debt management. We get to know you and strive to earn your complete satisfaction by paying attention to details and your individual needs.
Our experience in these service areas combined with our small-firm structure enable you to receive personalized service at a reasonable price. We are licensed with the American Institute of Certified Public Accountants and the Texas State Board of Public Accountancy. Our professional staff receives the required education annually to stay current with the latest accounting and taxation laws and regulations.
Contact us today obtain real solutions leading to real results. We look forward to serving you!

FREQUENTLY ASKED QUESTIONS
Q: How much and what kind of documents do you need to prepare my tax return?
A: For personal income tax returns, we need all of the year-end tax reporting documents for your sources of income (Form W-2, 1099, 1098, etc.) that are sent to you in January and February. We also need recaps of your various tax deductions such as donations, property taxes, mortgage interest, and any sole proprietor business deductions. The more organized you are in providing your tax information, the less time it should take us to prepare your tax return.
For business tax returns, we need your business' year-end financial statements, which consist of a balance sheet and profit/loss statement. If your business does not use a computerized software program for bookkeeping purposes, we have cost-effective software programs where we can maintain your monthly or annual bookkeeping on our computer system for a reasonable fee. Then we can prepare the annual tax return using the reports generated by our computer. Please contact us with questions about specific software programs.
Q: What role do you play if the IRS audits me?
A: We will negotiate directly with the IRS officer assigned to your audit once you authorize us as your tax representative. We will review the tax return being audited and advise you on any exposure areas. We will ask the IRS officer to work in our office and deal directly with us so that they do not interrupt your daily business operations, and we only provide them information that they specifically request for the audit.
Q: What is IRS problem resolution?
A: If a taxpayer falls behind in paying taxes to the IRS, we can assist in negotiating a payment plan with the IRS. In more severe cases where financial or health difficulties prevent someone from paying their taxes, we can prepare a written offer to settle with the IRS for pennies-on-the-dollar, so that you can get relief and move forward with your life.
Q: How secure are your computer systems, and how do you accept data from your clients?
A: We use an inter-office network computer system where staff utilize the firm's centralized computer programs and files. We maintain a separate external data backup system to ensure the safety of firm and client data. We accept client data either in hardcopy form or through the use of e-mail with files electronically attached.
Q: What hours are you available?
A: We are available during normal business hours which are 8:30 a.m. to 5:30 p.m. Monday through Friday. We would be happy to make special arrangements for evening or weekend consultations.
Q: How do you bill for your services?
A: Our fees are calculated based on the amount of time we spend on each project and the level of expertise of our staff. Our fees range from $90 per hour for bookkeeping to $180 per hour for income tax returns. We will attempt to keep our time to a minimum, and where feasible we will utilize our client's personnel to prepare necessary schedules and analysis. We generally present our invoice at the completion of work on each project, and payment is due upon receipt. We accept cash, checks and credit card payments.
If we can answer any questions or be of service in any way, don't hesitate to contact us. To schedule an appointment, call (281) 488-1854 and ask for Patrick.

Copyright © Patrick Cooper, CPA. All rights are reserved. Patrick Cooper & Associates, P.C. is a Texas-based certified public accounting (CPA) firm serving the Bay Area, Houston and Pearland, Texas. Our services include income tax preparation and consulting, financial statement preparation, Quickbooks bookkeeping and accounting, estate planning, business formation (i.e. incorporation as a C-corporation or S-corporation, limited liability company, partnerships, etc.), and other small business services.